Kitchen Menu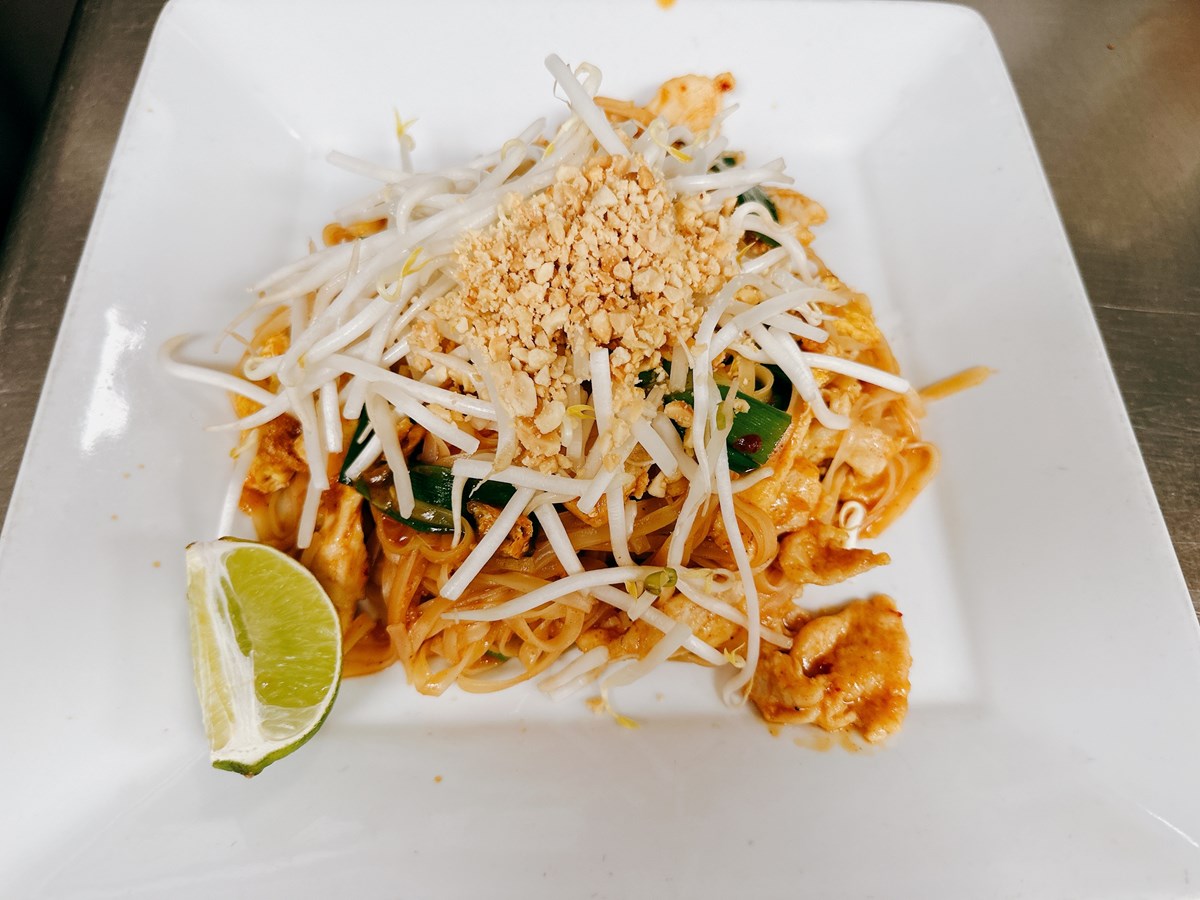 Soups & Salads
Miso Soup
Soybean paste in fish broth w. tofu, scallion & seaweed
Dumpling Soup
Pork dumpling w. dried onion, scallion in clear soup
Seafood Tom Yum Soup
Assorted seafood,vegs.in tom yum broth garnished w.cilantro Spicy
Coconut Seafood Chowder Soup
Assorted seafood, onion & bell pepper in creamy coconut milk broth Spicy
Miso House Salad
W.sesame dressing
Avocado Salad
w.sesame dressing
Crispy Tofu Salad
Crispy fried tofu w. cucumber, mango, spring mixed green in chef`s special peanut sauce
Appetizers
Veggie Mini Roll (4)
Crispy spring roll served w. Thai sweet chili sauce
Roti Canai
Indian pancake w.potato curry dipping Spicy
Thai Summer Roll (4)
Rice paper wrapped w. jicama, mango, mint leaf, cucumber & mixed green served cold
Lemongrass Chicken Satay (4)
On a skewer served w.peanut sauce
Steamed Chicken Shumai (6)
Chicken & vegetable dumpling
Golden Cheese Wonton
topped w.melted cheese
Pork Gyoza
Pan fried dumpling
Fried Chicken Shumai (6)
Chicken & vegetable dumpling
Spicy Edamame
Stir fried edamame in spicy sauce Spicy
Rock Shrimp
W.spicy mayo & yuzu sauce Spicy
Fire Cracker Eggplant
Fried eggplant w. bell pepper, onion, cilantro & hot pepper Spicy
Crispy Calamari
Served w. mango tomato salsa Spicy
Filet Mignon Lettuce Wrap
Spicy
Chicken Lettuce Wrap
Spicy
Shrimp Veg Tempura
Shrimp & vegetables in tempura battered fried
Pork Ribs
Thoroughly marinated and grill w. our chef`s special sauce
Miso Friends Combo (for 2)
Rock shrimp,Pork ribs, crispy calamari & veggie mini roll Spicy
Noodles / Rice
Classic Fried Rice w.
Chicken or Veggie, Beef, Shrimp, Seafood
Basil Fried Rice w.
Stir fried rice w. basil, eggs, onions, and vegetables
Chicken or Veggie, Shrimp, Beef, Seafood
Mongolian Crispy Fried Noodles
Stir fried combination of beef, chicken, shrimp & mixed veggie served over crispy thin egg noodles

Singapore Noodles
Spicy. Thin rice noodles sauteed w. chicken, shrimp, beef, egg mixed veggie & light curry

Pho (Vietnamese Beef Noodle Soup)
Thin sliced beef w.vietnames rice noodles in beef broth

Pad Thai Noodles
w. Tofu, w.Chicken, w.Veggie, w.Beef, w.Shrimp, w.Seafood

Pad See Yu Noodles
Thick flat rice noodles sautéed in a soy based sauce w. broccoli & egg. Tofu, w.Chicken, w.Veggie, w.Beef, w.Shrimp, w.Seafood

Drunken Noodles
Thick flat rice noodles sautéed w. basil, onion, bell pepper & fresh green vegs.
w. Tofu, w.Chicken, w.Veggie, w.Beef, w.Shrimp, w.Seafood

Pineapple Fried Rice
Pineapple, egg, raisin, carrot, peas w. turmeric powder & cashew nut
w.Chicken, w.Veggie, w.Beef, w.Shrimp, w.Seafood

Lo Mein
w.Chicken, w.Veggie, w.Beef, w.Shrimp, w.Seafood

Wok / Grill Favorites
Served w. White or Brown Rice
Buddhist Delight
Assorted fresh vegetables, mushroom & fried tofu
Eggplant w.Chili Garlic Sauce
Stired fried eggplant in Thai spicy brown sauce Spicy
Honey Sesame Chicken
Battered fried white meat chicken in sweet honey sauce & sesame seeds.
Crispy Orange Chicken
Battered fried white meat chicken w. orange peel in spicy sweet sauce Spicy
General Tso's Chicken (or Tofu)
Stired fried white meat chicken in sweet spicy sauce Spicy
Broccoli with Chicken, Shrimp, or Beef
Stir fried broccoli in brown sauce
Kung Pao with Chicken, Beef, Shrimp or Tofu
Stir fried vegetables & jalapeno in Thai spicy brown sauce & peanut. Spicy
Basil Chili with Chicken, Beef, Shrimp or Tofu
Onion, scallion, bell pepper, basil in Thai spicy brown sauce.
Thai Cashew with Chicken, Beef, Shrimp or Tofu
Basil, asparagus, onion, mushroom, green pepper & cashew w. Thai spicy brown sauce Spicy
Mango Chicken or Shrimp
Mango sauteed w. bell pepper in a tangy tomato mango sauce.
Coconut Chicken or Shrimp
Stir fried w. pineapple, bell pepper, mango & jicama in a sweet coconut sauce.
Thai Crispy Chicken Breast
Served w. special brown sauce & sauteed green vegetables Spicy
Thai Crispy Walnut Shrimp
with yuzu creamy sauce Spicy
Stir Fried Seafood w.Garlic
Mussel, squid, shrimp & scallop sauteed w. garlic, mushroom, basil and bell pepper.
Crispy Fillet Tilapia
Crispy fish w. mixed veggie in chef's spicy sauce. Spicy
Baked Duck
Boneless duck w. sauteed green veg. in special brown sauce
Teriyaki Steak, Chicken or Salmon
Clay Pot Seafood
Mixed seafood w. glass noodles, shitake mushroom, scallions, basil & onion in a hot clay pot
Bird Nest w.Crispy Potato Basket
Sauteed shrimp, chicken, asparagus, shitake mushroom, peas & carrot
Filet Mignon
Miso's special shitake mushroom sauce w. sauteed green vegetables
Black Pearl Lamb
served w. black rice
Crispy Red Snapper
Whole fried red snapper in red curry sauce w. bell pepper & onion Spicy
Char-Grilled Chilean Sea Bass
Sauteed green vegetables & shitake mushroom bedding
Captain Miso
Shrimp, scallop, lobster tail w. shitake mushroom, asparagus & sauteed green vegetable in lemon butter sauce
Roast Peking Duck
Served w.pancake
Thai Curries
Choice of Tofu or Vegetables, Shrimp, Chicken, Seafood, Beef or Salmon. Served w. White or Brown Rice.
Red Curry
Coconut milk, bell pepper, onion and basil. Spicy
Mussamum Curry
Coconut milk, potato, sweet potato, onions and cashews. Spicy
Panang
Coconut milk, bell pepper, onion. Spicy
Green Curry
Coconut milk, string beans, eggplants, lemongrass & basil Spicy
Side Dishes
Side Vegetable Fried Rice
Side Steamed Seasonal Vegetables
Side Steamed Broccoli
Extra White Rice
Extra Brown Rice


Kids
Chicken Finger w. French Fries

Cheese Sticks